Capital Campaign
---
Thank YOU for helping us Transform our Spaces so we can continue to Transform Lives!

Learn more about the project:

The Bridge Capital Campaign
from
Soluna Media
on
Vimeo
The $3 Million remodeling project began in May, 2015 and was completed in October, 2016 with all programs remaining open for services.
The Bridge committed to contribute half of the cost of the project but needed your help to raise the remaining $1.5 Million.
We raised 98% of our goal ($1.46 Million). You can continue to contribute by donating here.

---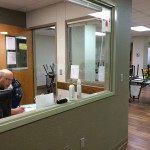 The former nurses station was situated too far from those clients with the greatest medical need. Our new shared nurses station provides better visibility and enables nurses from both the Voluntary Withdrawal Unit and the Civil Protective Custody unit to work together to provide important interventions.
Fact Sheet
Want to help?
You can donate now online or, for larger sums payable over time, please fill out and return the
Pledge Commitment Form.